Facebook doesn't want you to sent out thousands of unwanted invites to your friends. They really, really don't want you to. So over time they continue to alter the way certain functionality works. When you invite people to a Facebook fan page or an event, for example, the "select all" button is gone, leaving you to click them one by one. Instead of showing you all your friends by default, they show ones you have recently interacted with (supposedly). Then you have a drop-down to choose from.
The contents of that drop-down are:
Recent Interactions
Search All Friends
Some of the cities your friends are in
Your universities
Some of the Facebook groups you belong to
Seven of your friends lists
Selected
Unfortunately, Facebook appears to offer no way to see all the options for cities, groups and friends lists—you're stuck with whatever their formula came up with. This post will talk simply about friends lists; if you have a solution to the cities or groups issues, please leave it in the comments!
Facebook only allows you to select from the seven most recently created friends lists. Although this is a terrible inconvenience, this consistency means you can at least work around it. Note that modifying the name of a list or the friends in a list does not change its position; it only depends on when the list was created.
That gives you several options to arrange your friends lists.
Tweak Your Friends Lists Ahead of Time
This is really only useful if you plan this out in advance–or are ready to do a lot of work to sort things out afterwards. Simply create a horde of extra, unneeded lists with random names.
Then create your new lists—no more than seven—that you want to use when inviting friends to fan pages and so on.
Whenever you need a friends list, don't create a new one. Instead, rename one of your empty lists and fill it with friends. Then you can use it to help organize your friends, without disturbing the placement of your seven newest lists.
Renew a Friends List
There is no direct way to force a list to show up in that "top seven." Instead, move your contacts to a different list. Here again, Facebook falls short. You cannot export or import contacts, you cannot copy a friends list or do any other convenient group task.
The easiest way to do this is to rename your friends list from "My List" to "My List – old." Then create a new list and name it "My List."
After that, look at the list of friends in "My List – old." Hover over each name in the list, and an "edit list" button will appear, as in the screenshot below.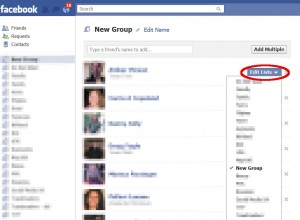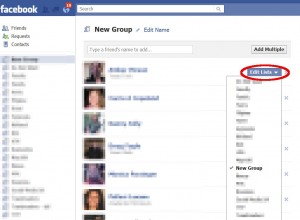 Click "edit list." Click "My List" (your new list) to select it and add the friend to that list. I also encourage clicking "My List – old" (the list you are currently editing) to remove the friend from the old list. This will gray them out in the list and make it much easier to tell who has been moved and who hasn't. After that, click somewhere else on the page to collapse the "edit list" button and repeat the process for the next contact.
Unfortunately, you do have to do this one at a time for every contact, which can get time-consuming. But if you play your cards right, you will only have to do it once, and save time when inviting people in the future!
Use Fewer Lists
I'm sure you don't want to hear this, but there's always going without. If you have lists that you don't really use, then delete them, especially ones that are showing in your list of seven when inviting Facebook friends. Of course, whatever list replaces them may still not be one you want.
If you only have seven lists (or less) then it's all good. If you only have seven lists you commonly invite to events and fan pages and groups on Facebook, but use other lists to categorize friends, then you can manipulate your lists to take care of it. If you need to frequently invite more lists than that… well then, sorry.
Inviting All
With the "select all" button gone when you try to invite friends, inviting more than a few friends can be a major nuisance. There are JavaScript solutions to mass invite friends to Facebook pages, but they don't work all the time or for everyone, and from what I've read online, it seems they may not last for long before they stop working. It's possible (although I have seen nothing substantial on this) that Facebook circumvents these as they come up.
Remember: those little tricks will only work on friends currently displaying. Make sure the correct list or set or friends is showing, and if it's a long list, scroll to the bottom. Very long lists are only partially loaded, and progressively load as you scroll… as you scroll downwards you'll see the scroll bar jump as more friends are added below, so make sure you get all the way to the bottom.
Honestly? Your best bet may be getting an inexpensive contractor from a site like oDesk to do this time-consuming work for you. Unfortunately, this is one task that Facebook doesn't make easy.
Note: Circle Hack offers an interesting attempt at friend management by showing friends lists as "circles" (Google+ style) and dragging friends to those circles to organize them. Unfortunately, it has no way to copy one list to another, or even to bring up a list of only friends in one list to drag to other list. If you know of a powerful friends list management Facebook app, please talk about it in the comments!